If you're looking for the most cutting edge digital printing services around, you've come to the right place. Here at T & P Print we specialise in quick and affordable colour printing services, producing the highest quality prints time and time again. Armed with the latest Xerox digital production presses running on the most advanced industry software, we're perfectly placed to produce the highest quality digital prints with the greatest flexibility.
Whether you're looking to print a set of short run flyers or an entire set of marketing material for your company, T & P Print is here to help. With our true digital production colour system we can produce all of your prints with an unbelievable level of speed without ever skimping on quality. We pride ourselves on our ability to deliver outstanding image quality and consistency with every print run.
Colour Printing Services
Here at T & P Print our colour printing services are all competitively priced, offering an unsurpassed level of quality and customer satisfaction. Between our extensive experience and highly knowledgeable staff, we're confident that we can provide the perfect digital prints for you. We don't just discuss your job with you before starting – we ensure that the finished print is exactly what you imagined, exactly as you envisioned it. This incredible level of service is reflected by the high level of praise we receive in our client testimonials.
Our state-of-the-art premises even include a complete pre-press shop, wide format printers, and a complete finishing shop for laminating and mounting on board. Whatever it is that you're looking for in a professional digital printing service, T & P Print is here to help today.
Why Choose T & P Print
We've been working in the printing industry since we were established in 1922 as a typesetting business. We were around at the advent of both lithographic and digital printing and our knowledge and experience have grown with each passing year. Here at T & P Print we continually strive to use modern technology to its full potential, providing high quality prints for all of our clients.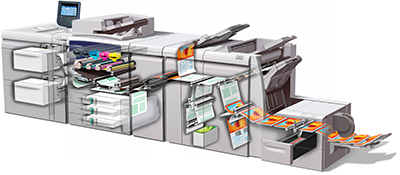 If you have any questions about our digital printing services make sure you give us a call on 01274 521717 today. A member of our friendly team will be able to answer any of your questions and provide a quote for our services.